Post Date
October
,
16
2023
A pressure transmitter is a handy device that measures the pressure of liquids or gases. Think of it like a thermometer but for pressure. When pressure changes, this device senses it. It then sends a signal to display or control systems. So, if there's too much or too little pressure, we know! This helps in industries like oil, gas, and water treatment. Keeping pressure just right is vital for safety and efficiency. With a pressure transmitter, many processes run smoothly and safely.
How Do Pressure Transmitters Work?
These little gadgets play a big role in many industries. Ever wonder how they detect pressure changes so accurately?
Sensing the Pressure
At the heart of every pressure transmitter, there's a pressure sensor. This sensor feels the pressure of a liquid or gas. Imagine it like your hand feeling the pressure of water from a shower. When the pressure changes, the sensor feels this change immediately.
Converting Pressure to Electrical Signal
Now, here comes the magic. Once the sensor feels the pressure, it needs to tell us about it. But how? The sensor transforms this pressure into an electrical signal. Think of this as converting your feelings into words.
Amplifying the Signal
Sometimes, this electrical signal is tiny, almost like a whisper. We need to make it louder or stronger to read it properly. So, the transmitter amplifies this signal. It's like turning up the volume on a quiet song so you can hear it better.
Sending the Signal to Display
After amplifying, the transmitter sends this signal to a display or control system. This display can be a simple gauge, a digital readout, or a computer system. This lets us see the pressure level in a way we understand. It's like seeing the temperature on a thermometer.
Keeping Everything Stable
Transmitters often work in tough conditions. Heat, cold, vibrations, or other external factors can impact their performance. So, they have built-in stabilizers. These ensure the device gives accurate readings no matter the environment. It's like wearing a coat in winter; it helps you function properly even in challenging conditions.
Adjusting for Variations
Sometimes, we need to measure different types of pressures. For instance, there's absolute pressure, gauge pressure, and differential pressure. Different situations call for different measurements. The transmitter can adjust to these variations. It's like using different measuring cups for different ingredients.
Connecting to Control Systems
In many setups, just knowing the pressure isn't enough. We need to act on it. Let's say the pressure is too high in a boiler. That's risky! The transmitter can connect to control systems. When the pressure goes beyond a safe limit, the system can reduce it. This keeps everything running smoothly and safely.
Ensuring Safety
Safety is paramount in many industries. Pressure transmitters play a crucial role here. They constantly monitor pressure levels. If something goes wrong, they alert us or the control systems. This prevents accidents, ensuring our workplaces remain safe.
Calibration is Key
Over time, any device can drift from its accurate readings. Transmitters are no different. That's why they need regular calibration. Calibration is like tuning a musical instrument. It ensures the device remains accurate and trustworthy.
Communicating with Other Devices
Modern pressure transmitters aren't standalone devices. They often connect with other instruments. This helps in creating a network of devices that communicate. They can share information and make collaborative decisions. It's like team members working together on a project.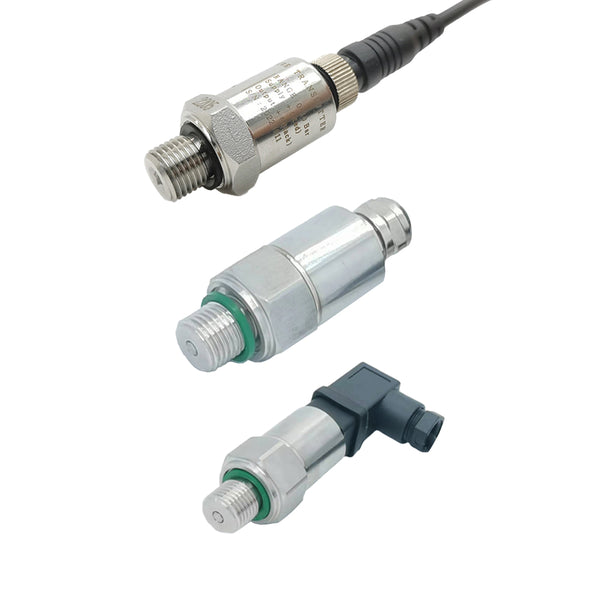 Types of pressure transmitters and their purpose 
Pressure transmitters come in various types, each designed for a specific job. Let's explore these types and understand their unique roles.
Absolute Pressure Transmitter
This type measures pressure relative to a perfect vacuum. Imagine a space with no air at all—that's a vacuum. Absolute pressure transmitters give readings considering this zero-pressure point. They're handy in industries that require a precise pressure reference, like weather forecasting or altitude measurements.
Gauge Pressure Transmitter
These are the everyday heroes for many tasks. They measure the pressure of a fluid or gas against the atmospheric pressure. If you've seen a tire pressure gauge, you've seen this type in action. Industries use them widely, especially in processes needing a reference to the environment's pressure.
Differential Pressure Transmitter
Now, these are a bit special. They measure the difference in pressure between two points. Imagine comparing the pressure in two separate pipes—it's this device's job! It's essential in water treatment plants, oil refineries, and HVAC systems to monitor flow rates and filter conditions.
Sealed Pressure Transmitter
Sometimes, we need to measure pressure against a fixed reference, not the ever-changing atmospheric pressure. That's when sealed pressure transmitters come in. They have a predefined reference sealed inside. They're great for applications where atmospheric variations can affect readings.
Multivariable Pressure Transmitter
Talk about multitasking! These devices can measure more than just pressure. They can handle temperature and flow rates too. This gives a comprehensive view of a system's health. Industries like petrochemicals and energy benefit greatly from these all-rounders.
Factors for choosing a pressure transmitter
Picking the right pressure transmitter isn't just a game of eeny, meeny, miny, moe. Several factors come into play, ensuring you get the best device for the job. 
Type of Pressure Measurement
First, you need to know the kind of pressure you're measuring. Are you looking at gauge, absolute, differential, or sealed pressure? Each type has a specialized transmitter. Understand your needs and half the battle is won!
Measurement Range
Just as we wear different shoes for different occasions, transmitters have their ranges. It's vital to know the maximum and minimum pressures your system can experience. Pick a transmitter that comfortably handles these levels.
Accuracy
A small error in some applications can lead to big problems. Choose a transmitter with an accuracy level that matches the precision your process requires. Sometimes, being "close enough" isn't good enough.
Environmental Conditions
Where will your transmitter live? Harsh environments with high temperatures, moisture, or vibrations need robust transmitters. If your device is in a calm office, you can opt for less rugged models.
Material Compatibility
The transmitter will come in contact with liquids or gases. Ensure the device materials don't corrode or degrade with exposure. It's like choosing the right utensils for acidic foods.
Response Time
How fast do you need your readings? If rapid changes occur in your system, you'll want a transmitter with a quick response time. It ensures you catch and react to these swift changes.
Connectivity and Output
Your transmitter isn't an island. It needs to talk to displays or control systems. Check the output options—like 4-20 mA, digital, or wireless—and see if they fit your setup.
Calibration and Maintenance
All devices need some TLC. Some transmitters require frequent calibrations, while others are more stable. Consider how much time and effort you're willing to spend on upkeep.
Size and Installation
Not all spaces are roomy. Ensure the transmitter you choose fits comfortably in its designated spot. Also, consider how easy it is to install. No one likes a complicated setup!
Cost
While we all want the best, budgets are real. Look at the total cost, including purchase, installation, and maintenance. Sometimes, a cheaper upfront cost can lead to higher expenses down the road.
Safety Certifications
In certain industries, safety is paramount. Transmitters might need to meet specific safety standards. Always check if the device has the necessary certifications for your sector.
Redundancy
In critical applications, one is rarely enough. If a transmitter's reading is vital and can't afford downtimes, consider having a backup in place.
Vendor Reputation
A good brand doesn't just offer a product. They provide support, warranties, and peace of mind. Research the vendor's reputation. A reliable brand often ensures a smooth experience.
Customization Options
Sometimes, off-the-shelf doesn't cut it. Some vendors offer customization, tweaking the transmitter to your unique needs. If your application is a bit out of the ordinary, this is a great plus.
Energy Consumption
If your transmitter is battery-powered or in a place with limited power options, energy efficiency is vital. Check how much power the device uses and its battery life.
Application Specific Features
Some transmitters come with unique features, like built-in displays, switches, or alarms. Think about the bells and whistles you might need and see if the device offers them.
Future Proofing
Lastly, consider the future. Will your needs change? Can the transmitter handle those changes? Opting for a device that grows with you is always a smart move.
In wrapping up, selecting the right pressure transmitter isn't a light decision. With these factors in mind, you're well-equipped to make an informed choice. Remember, the right transmitter not only makes your process efficient but also safe and reliable. Take your time, weigh these considerations, and you'll find a perfect match for your needs!
Leave a comment