Post Date
November
,
16
2023
Analog pressure sensors play a vital role in our daily lives, though we might not always notice them. They work quietly in the background, measuring and monitoring pressure in various settings. From ensuring our car tires have the right air pressure to keeping industrial machines running safely, these sensors are essential. They help in maintaining safety in factories, comfort in our vehicles, and precision in scientific research. Their ability to provide accurate, real-time pressure readings makes them indispensable in many fields. Understanding their importance helps us appreciate the technology that makes our lives safer and more efficient.
What is analog pressure sensor?
An analog pressure sensor is a device that measures pressure and converts it into an analog electrical signal. Imagine pressing your hand against a balloon. The harder you press, the more it stretches. This sensor works similarly. It detects how much force fluids or gases exert, like air in a tire or water in a pipe. Then, it turns this pressure into a signal that can vary in voltage or current. These signals are really helpful. They let machines and systems understand and react to pressure changes, just like your skin feels pressure. This makes analog pressure sensors super useful in many industries.
Types of Analog Pressure Sensors
Analog pressure sensors come in different types, each with its unique way of sensing and measuring pressure. Let's see the main types:
Type 1: Strain Gauge Pressure Sensors 
These are the workhorses in the world of pressure sensors. They have a metal foil pattern that changes resistance when pressure applies. Think of it like a spring that stretches or compresses under pressure. This change in resistance translates into an analog signal, indicating the level of pressure.
Type 2: Piezoelectric Pressure Sensors
These sensors are like magic. They use special materials that generate electricity when you apply pressure to them. It's similar to squeezing a lemon and getting juice. The pressure on these materials produces a voltage, which we can measure to know the pressure amount.
Type 3: Capacitive Pressure Sensors
Imagine two metal plates with a space between them. When pressure changes, the space changes too, altering the capacitance. It's like pressing a sponge between your hands. The closer your hands get, the more the capacitance changes, and this change tells us the pressure.
Type 4: Potentiometric Pressure Sensors 
These are the simple yet effective types. They have a wiper that moves along a resistive element as the pressure changes. It's like sliding your finger on a touch-sensitive lamp to adjust the light. The position of the wiper changes the resistance, giving us a pressure reading.
Type 5: Resonant Pressure Sensors
These sensors are high-tech and use a vibrating element, like a tiny tuning fork. When pressure changes, so does the frequency of the vibration. It's akin to plucking a guitar string and hearing a different sound when the tension changes.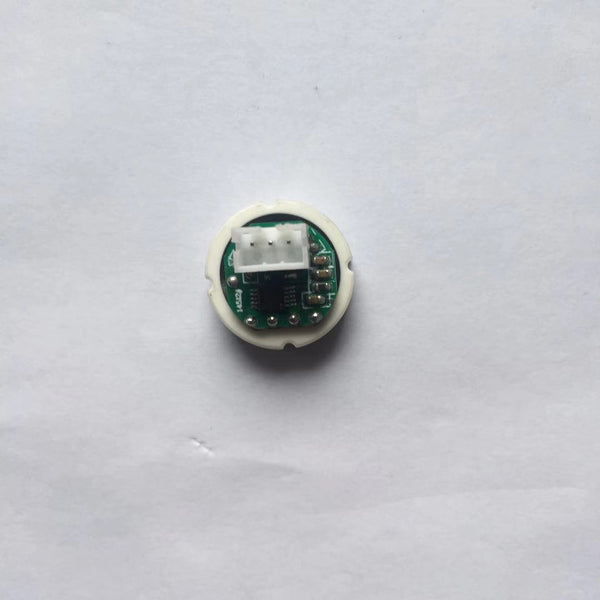 How does an analog pressure sensor work?
An analog pressure sensor is a handy tool that helps us measure pressure, like the air in tires or the force in pipes. Let's break down how it works in simple terms.
Core Concept: The sensor detects pressure changes and converts them into an electrical signal. This signal is something we can measure.
Pressure Sensing Element: Inside the sensor, there's a part called the sensing element. It feels the pressure. When pressure changes, this part bends or moves.
Strain Gauges: Attached to the sensing element are strain gauges. These are tiny devices that change their electrical resistance when stretched or compressed.
Conversion to Electrical Signal: When the sensing element moves due to pressure, it stretches or compresses the strain gauges. This change alters the electrical resistance.
Analog Signal: The change in resistance creates an electrical signal, which is analog. Analog means it can have any value within a range, not just on or off.
Reading the Signal: This analog signal then travels to a device that can read and display the pressure. This device translates the electrical signal into a pressure reading.
Calibration Is Key: For accurate readings, the sensor must be well-calibrated. Calibration means setting the sensor to read pressure correctly.
Versatile Uses: People use analog pressure sensors in many places. You'll find them in cars, industrial equipment, and even medical devices.
Benefits: These sensors are reliable and can handle tough conditions. They are also quite accurate and give us real-time readings.
Limitations: However, they can be sensitive to temperature changes and vibrations. These factors can affect their accuracy.
Choosing the Right One: When picking a sensor, consider the pressure range and the environment where you'll use it.
Maintenance Is Important: To keep the sensor working well, regular maintenance is important. This means checking for damage and recalibrating it when needed.
An analog pressure sensor feels the pressure, changes this into an electrical signal, and then shows us the pressure level. It's a useful tool in many fields due to its accuracy and reliability.
Advantages and Limitations of analog pressure sensor
Analog pressure sensors are quite popular, and for good reasons. Let's explore their advantages and limitations in a straightforward and friendly way.
Advantages
Accuracy and Sensitivity: Analog pressure sensors are known for their accuracy. They can detect even tiny changes in pressure, which is great for precise measurements.
Simple Design: These sensors have a simple design, making them easy to use and understand. This simplicity also leads to fewer parts that can break.
Real-Time Monitoring: They provide real-time monitoring of pressure changes. This feature is crucial in many applications, like monitoring air pressure in tires.
Wide Range of Applications: You can use analog pressure sensors in various fields, from automotive to medical industries. Their versatility is a big plus.
Analog Output: The analog output is easy to integrate with other analog systems, making these sensors a go-to choice for many older systems.
Cost-Effective: Generally, they are more affordable than their digital counterparts. This makes them a budget-friendly option for many projects.
Limitations
Vulnerability to External Factors: Analog sensors can be sensitive to external factors like temperature and humidity. These factors can affect their accuracy.
Need for Calibration: They require regular calibration to maintain accuracy. If you neglect this, the readings can become unreliable.
Limited Signal Processing: Unlike digital sensors, analog ones have limited capabilities in terms of signal processing. They can't filter or amplify signals on their own.
Signal Degradation over Distance: The signal from these sensors can degrade over long distances. This limitation can be a problem in large-scale applications.
Analog-to-Digital Conversion Needed: For modern digital systems, you'll need to convert the analog signal to digital. This adds an extra step in the process.
Installation and Calibration of analog pressure sensor
Installing and calibrating an analog pressure sensor is a crucial step to ensure it works correctly. Let's walk through this process in a friendly and clear way.
Installation
Choosing the Right Location: First, you need to pick the right spot for your sensor. It should be close to where you want to measure the pressure.
Securing the Sensor: Once you find the perfect spot, secure the sensor firmly. Make sure it doesn't move or vibrate.
Connecting to the System: Next, connect the sensor to your system. This usually involves attaching wires or tubes, depending on your sensor type.
Protecting from Environmental Factors: Consider protecting the sensor from extreme temperatures, moisture, or other environmental factors that could affect its performance.
Testing Initial Functionality: After installation, do a quick test to ensure the sensor is responding. This doesn't mean it's calibrated yet, but it should react to pressure changes.
Calibration
Understanding Calibration: Calibration means setting the sensor to accurately read pressure. It's like tuning a guitar to make sure it plays the right notes.
Using a Reference: To calibrate, you need a reference. This could be another sensor that you know is accurate or a calibrated instrument.
Adjusting to Zero Point: Start by adjusting the sensor to its zero point. This means setting it to read zero when there's no pressure.
Applying Known Pressure: Then, apply a known pressure to the sensor. Compare this with what the sensor reads.
Adjusting the Readings: If there's a difference between the known pressure and the sensor's reading, adjust the sensor accordingly.
Repeating as Necessary: Repeat the process with different pressure levels to ensure accuracy across its range.
Regular Check-Ups: Remember, calibration isn't a one-time thing. Regularly check and recalibrate the sensor to maintain its accuracy.
Installing and calibrating an analog pressure sensor involves choosing the right location, securing it properly, and ensuring it's connected correctly. Calibration is about adjusting the sensor to accurately read pressure, using a reference, and regularly checking its accuracy. With these steps, you'll ensure your sensor gives reliable readings.
Leave a comment