Post Date
October
,
28
2023
Water pipes play a crucial role in our daily lives, carrying vital water to our homes and businesses. But how do we ensure they're working correctly and safely? Enter the water pipe pressure sensor. This handy device monitors and alerts us about the pressure inside these pipes. By converting pressure force into an easily readable electrical signal, the sensor helps maintain our systems' efficiency and safety. If you've ever wondered about the technology that keeps your water flowing just right, let's dive into how these essential sensors work.
What is a water pipe pressure sensor?
The water pipe pressure sensor measures the pressure inside water pipes. It's like a tiny device that watches the water's push force. When water moves fast or there's a lot of it, pressure can go up. Too much or too little pressure can cause problems. This sensor helps spot those changes early. By reading its data, people can make sure water systems work right. This ensures safe water flow in our homes and buildings. If something's off, the sensor alerts the system or users. 
How does a water pipe pressure sensor work?
Water pipe pressure sensors, also known as pressure transducers, help us monitor and control the pressure of water in a pipe. They work by converting the pressure force into an electrical signal. When water pressure changes, the sensor detects this change and sends a signal to a display or control system.
A pressure sensor typically has a diaphragm and a strain gauge. The diaphragm moves when the water pressure changes. This movement then affects the strain gauge, which changes its electrical resistance. The sensor converts this change into an electrical signal.
The electrical signal then goes to a display or control system. This lets us see the current water pressure and make adjustments if needed. For example, in a home heating system, the sensor helps maintain the right water pressure for the system to work efficiently.
These sensors are very useful in various applications, such as water supply systems, irrigation systems, and industrial processes. They help to ensure that the water pressure is at the right level for the system to work properly. This is important for both safety and efficiency.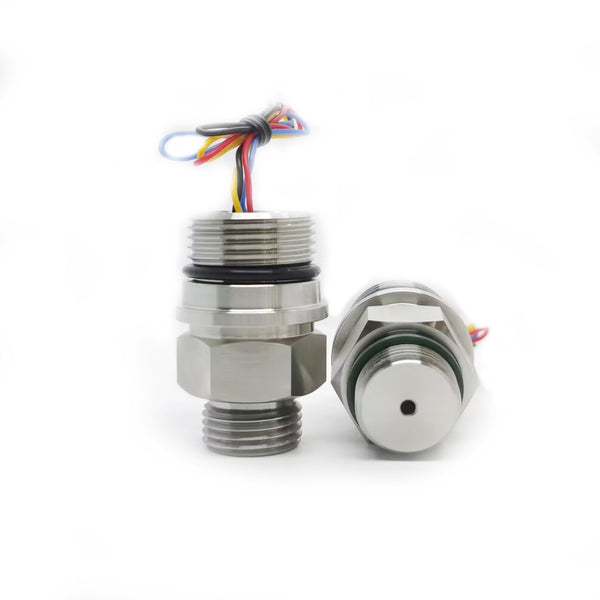 How do you use a water pipe pressure sensor?
Using a water pipe pressure sensor can seem daunting, but it's simpler than you might think. These sensors help us monitor and control the pressure in water pipes. Whether for home use, irrigation, or industrial processes, understanding how to use them is key. Here's a step-by-step guide to help you out:
Choose the Right Sensor
Before anything else, ensure you have the correct sensor for your needs. Different sensors handle different pressure ranges. It's essential to pick one that matches the pressure levels you expect in your system.
Positioning is Key
Place the sensor at the right spot in your pipe system. Typically, you'll want it where you expect the most pressure variation. Installing it near pumps or valves is often a good choice.
Connect the Sensor
Most sensors have threaded ends that fit directly into a pipe system. Ensure the connection is tight to avoid leaks. Using Teflon tape can help secure this connection further.
Wire the Sensor 
After installing the sensor physically, it's time to connect it to a readout or control system. This is how you'll get data from the sensor. Most sensors come with a guide on which wire connects where.
Calibrate the Sensor
Once everything's connected, turn on the system. Check the sensor's reading and compare it to a known pressure if possible. Some sensors have calibration dials or buttons to adjust until the reading is accurate.
Monitor Regularly
With everything set up, keep an eye on your readings. If you see sudden or unexpected changes, it might indicate a problem in the system, like a leak or blockage.
Set Alerts if Possible
Some advanced systems allow you to set pressure thresholds. If the pressure goes above or below these levels, the system can alert you. This feature is handy, especially in systems where you can't monitor constantly.
Regular Maintenance
Every so often, check the physical condition of your sensor. Dirt, debris, or wear can affect its accuracy. A gentle clean and visual inspection can help ensure it stays in good shape.
Record Readings
If you're looking to optimize your system or keep track of how it's performing, regularly recording your pressure readings can be beneficial. This way, you can see patterns or identify issues before they become bigger problems.
Understand the Readings
It's not enough just to take readings; you need to understand what they mean. If your system usually runs at a steady pressure, sudden drops or spikes are a cause for investigation.
Act Fast on Irregularities
If you notice something off with your readings, don't wait. Investigate the cause, and if needed, consult with a professional. Addressing issues early can save you time, money, and potential system damage.
Know When to Replace
Like all tools, pressure sensors won't last forever. Understand the lifespan of your chosen sensor. If it starts to show its age or gives inconsistent readings, it might be time for a replacement.
Wrapping Up
Using a water pipe pressure sensor can greatly benefit various applications. By following this step-by-step guide, you can ensure the safety and efficiency of your water system. Remember, the key is regular monitoring and understanding the data the sensor provides. With a bit of attention and care, you can keep your system running smoothly and avoid potential issues down the line.
Leave a comment