Post Date
January
,
23
2023
The pressure sensor with LCD display is applied to swimming pool filter system in France to monitor the pressure with home automation system.
XDB 306 pressure transmitter with LCD display is installed on the control system. It has been working well since 1 year ago it was installed.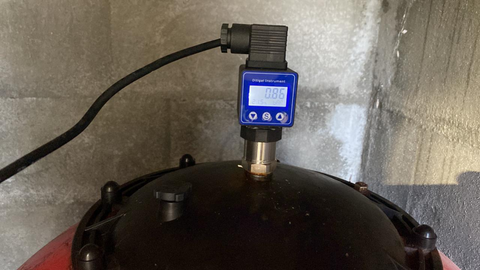 The kind comments from users are more recognition and support for XIDIBEI products.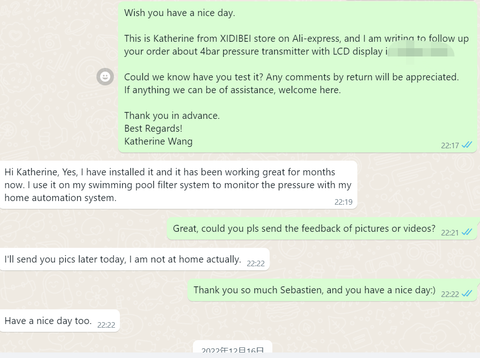 XDB306 pressure transmitter with LCD display technical specifications
Pressure range: 0-4 bar
Power Supply voltage: 12-36VDC,
Output signal: 0-10V,
Thread: G1/4,
Electrical connection: Hirschman DIN43650A.
XDB306 series pressure transmitters adopt the international advanced piezoresistive sensor technology, can be selected from the different sensor core depending on the various application. With all stainless steel package, good long-term stability, multiple signal outputs, they can be suitable for most media and adapted to various environments and climates, thus they are widely used in various fields, warranty is 1.5 years.
Besides, the green color LCD display is also available.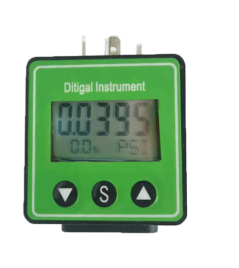 As for the LCD display, here is the specifications.
Display mode: LCD + backlight (white/green backlight);
2) LCD four-and-a-half-digit display, - 1999~19999 can be set arbitrarily;
3) Internal Resolution: 16-bit AD;
4) Accuracy: 0.1%;
5) Output signal (optional): 4-20mA/0- 10v;
6) R5485 communication (MODBUS RTU);
7) Ambient temperature: -20~70℃;
 8)Temperature Drift: <50ppm;
9) Voltage drop: <3.5VDC;
10) Sampling rate: 4 times/s;
11) Working power reverse polarity protection Overcurrent protection (over 30mA current limit); 12) 25 units of pressure, temperature, etc. can be freely set; 13) Protection class: IP65;
Leave a comment